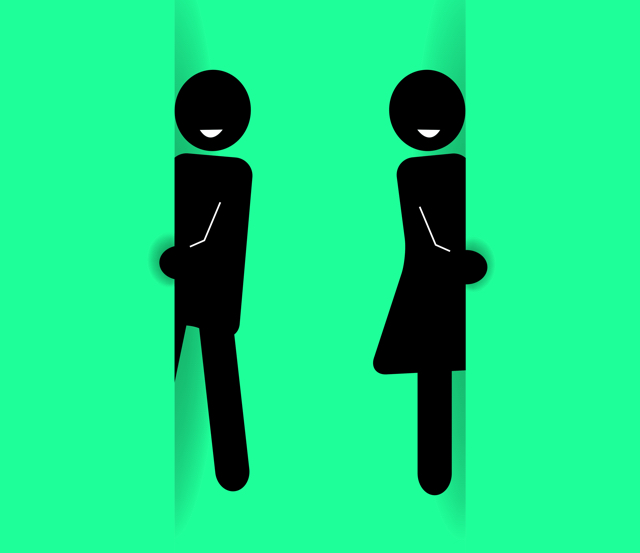 We've all been there: You have to "go" and you're nowhere near home so you have a choice: shame yourself or (gasp!) use a public restroom. So you consult a phone app to find the closest clean restroom (yes, there are several apps) and enroute to your designated clean loo you strategize how to get your business done and come out unscathed. How do you get IN or OUT of the restroom without touching the door handle, for instance? Do you use your elbow? Do you grab a tissue or moist wipe from the pack you always keep handy? Same goes for the stall door. And what if the seat is in the wrong position? You can always employ the squat-and-hover method and flush the toilet with your foot.
Discussing the variations is like watching a skit on Saturday Night Live. Let's say you flushed the toilet with your foot. Well, that means the next person might use their hands and whatever was on your shoe is now on their hands. And vice versa. You used a paper towel to open the door, but there's no garbage to dispose of the now dirty towel…so where do you put it? And let's say you placed your handbag or backpack on the hook on the stall door, but what was on the hook before you got there? Because you may be taking it with you. It's a vicious cycle. Is there a solution?
After one of the largest handwashing surveys in the UK revealed some "deplorable habits" recently, a company there launched a product to promote hand hygiene and shame bad hygiene by displaying rates on screens in bathrooms. The product was piloted across different types of businesses such as education, office and retail facilities as well as other sectors where good hand hygiene is essential—and the company claims the "informal nudge" and increased peer pressure helped drive good behavior rates up dramatically. "Hand washing rates rose to 90 per cent within two days of the data being displayed, before stabilising between 80 per cent and 85 per cent."
Of course, we never tire of handwashing discussions around here. Now, another new survey from restroom fixture manufacturer Bradley Corporation has gone and given us more fodder by covering the actions many of us take to avoid touching anything in a restroom. Sounds oddly familiar and we're not alone: 57% of people using public restrooms operate the flusher with their foot; 55% use paper towels with the door handle; 45% open and close the door with behind (we assume that's a hip or bum); and 69% of people use their elbows to avoid all contact in a public restroom.
We look forward to a world where 100% of respondents are washing their hands, but in the meantime we'll take an increase in people using paper towels, elbows, feet and bums, too.  Of course, there's always room for improvement when it comes to the state of public restrooms. In fact, an unpleasant restroom experience can create a damaging and lasting impression for a business—and that's bad for business. According to the Bradley survey, the majority of consumers believe an unclean restroom indicates poor management (69%), lowers their opinion of the company (67% ) and signifies that the business doesn't care about customers (63%).
Which brings us to another improvement we're thrilled to see in the business of taking care of our business: clean public restroom apps. There are several out there and we're not making a recommendation, but it can't be worse than going to a public restroom without some kind of head's up.