In talking about handwashing steps, we often refer to guidelines from both the Centers for Disease Control (CDC) and the World Health Organization (WHO). The recommendations from each organization are similar, but not identical. Is there a best method?
CDC instructions are, essentially, to soap up, scrub, and rinse, a process which takes around 35 seconds. To remember how long it should take, you can sing the alphabet song twice (how loudly you sing is completely up to you).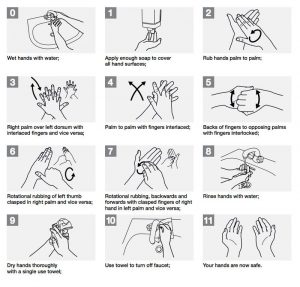 Image compliments of WHO
WHO recommendations are more involved, with specific steps, totaling about 42.5 seconds.
Researchers at the Glasgow Caledonian University in Scotland studied 42 doctors and 78 nurses who used either the CDC or WHO techniques. Results of this study indicate the WHO method to have a slight edge when it comes to reducing average bacterial count on the hands of medical workers. Even so, it's important to note that BOTH methods work very well and are effective at reducing the spread of germs.
Whether you're a health worker, a food handler, a teacher, or someone reading this on a handheld device, it's important to know you should wash your hands to help keep yourself and those around you healthy. Always get your hands wet first (don't put soap on dry hands), and wash often.
You can conduct your own study on how effectively you and those around you are washing your hands with products like our GlitterBug Potion.
Sources: