The 2016 Olympics have come to a close and many are continuing a discussion which has been going on since before the games began: What's the deal with Rio's contaminated water?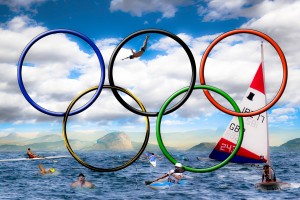 The world watched as athletes competed in water visibly tainted and unclear. However, It was clear that their methods of water sanitation and their push to clean the water permanently were unsuccessful.
The World Health Organization (WHO) advises the International Olympic Committee (IOC) and Local Organizing Committee (LOC) on health issues related to the games. Recommendations for this year's games included water quality testing in recreational waters, particularly those used by athletes competing in sailing, rowing, canoeing, and swimming events. Most common of illnesses associated with polluted recreational water exposure is mild gastroenteritis. Others include respiratory infections, and skin and ear infections.  
And yet most athletes were able to stay healthy despite unsatisfactory water conditions. How did they do it? Andy Hunt, CEO of the governing body World Sailing, reported on precautions taken by sailors in Rio. "Everyone has been very careful in using hand hygiene, washing down clothing, boats, and so on."
Avoiding exposure to contaminated water isn't always possible, especially while traveling. The general well-being of the athletes throughout the games only validates what we already know: proper hand hygiene is key in preventing illness.
Sources:
http://www.who.int/water_sanitation_health/water-quality/recreational/rio-water-quality-qa-julyupdate.pdf?ua=1
http://www.who.int/water_sanitation_health/bathing/statement-rio-water-quality/en/
http://www.wkbw.com/sports/olympics/rio-2016/water-to-remain-filthy-in-rio-after-olympics