Getting kids to wash their hands effectively can be a chore. Even when soap is available, kids will often skip using it and wash with just water. Bar soap can be messy, and liquid soap can be overused and wasted.
One thing kids do enjoy doing is drawing on their hands.
Combining these two problems has equalled a solution called SoaPen.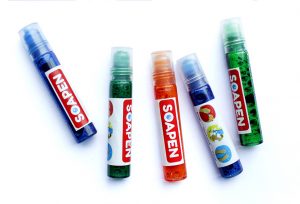 When a group of Indian industrial designers from Parson's School of Design in New York decided to find a way to get children into the habit of washing their hands, SoaPen was eventually born. Yogita Agrawal, Amanat Anand, and Shubham Issar got to work when they learned that handwashing can prevent the deaths of as many as 1.5 million children under age 5 each year. The designers' initial response was to make sure schools had soap, but they soon learned the soap was already in the schools; the kids simply weren't using it correctly, if at all. Observation of the students also yielded the realization that while they don't spend time washing their hands, kids do spend time drawing on their hands.
SoaPen is a colored marker with ink that turns into soapy lather when mixed with water. Kids draw all over their hands with it and have fun while washing their hands effectively.
The invention landed the three women in this year's Forbes 30 Under 30 Asia list for healthcare and science, and also led to their winning the 2015 UNICEF Wearables for Good Challenge.
Agrawal explains, "The effectiveness of SoaPen in reaching out to children and making handwashing a habit has reinstated our belief that simple, thoughtful changes to even age-old conventions can make rather big impacts."
Brevis also offers many creative ways for children of all ages to have fun while making sure their hands are clean. Glitterbug kits are one example—check them out at this link. For more creative ways to help kids be motivated to wash their hands, visit Brevis.com.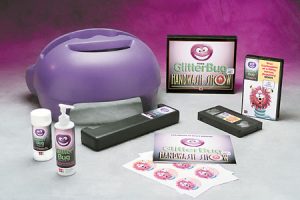 Sources:
http://www.interaksyon.com/soapen-this-soap-crayon-can-help-prevent-1-5-million-child-deaths-each-year/
https://www.forbes.com/30-under-30-asia/2017/healthcare-science/#5668e9b11722