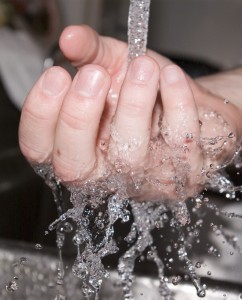 Did you make any resolutions for the new year? January is almost over, so let's check in: how are those resolutions going for you? If the mere thought of it made you slide down in your seat a little bit, you're not alone. According to a recent survey, 41 percent of Americans usually make New Year's Resolutions, but only 9.2 percent feel they've been able to be successful in keeping their resolution.
The good news is, while it's a trendy tradition to resolve to make improvements at the beginning of the new year, it's never too late to begin to make positive changes. Of the resolutions mentioned in the survey, the most common types were those related to self-improvement. Health-related goals are at the top of the list. So if you're looking for a quick way to be successful in sticking to your resolutions, here's one of the easiest and most important things you can do: resolve to practice good hand hygiene.
As we've heard from the Centers for Disease Control and Prevention (CDC), 'Handwashing is one of the best ways to protect yourself and your family from getting sick.' When you avoid contacting and spreading illness, you're able to tackle those other resolutions (like getting to the gym, right?). Make a family or workplace goal to wash hands regularly so it becomes a habit. Review proper hygiene methods with GlitterBug Gel and GlitterBug Potion.
Healthy living begins with small changes made daily. Commit today to practice good hand hygiene, enjoy better overall health, and move on to those other goals that lead to a better life (and success in keeping resolutions!). Make this new year happy and healthy!
Sources:
http://www.statisticbrain.com/new-years-resolution-statistics/
https://www.cdc.gov/features/handwashing/
http://www.brevis.com/blog/2016/08/glitterbug-gel-or-potion-that-is-the-question/
Image: http://www.freeimages.com/photo/washing-hands-1375412