This week families and friends will gather to give thanks, make memories, and share delicious meals. Whether you're hosting or traveling, you can take precautions to help protect your loved ones from sharing any sickness during your visits.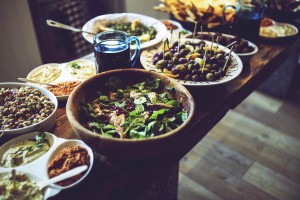 Safely handle the turkey
Frozen turkeys should be thawed in cold water (changed every 30 minutes), never on a countertop. Cooking your turkey should be done in an oven set to at least 325° F, and cooking time will vary depending on the weight of the bird. The turkey is done when it has reached an internal temperature of 165° F (use a digital thermometer, and check the turkey's thickest areas of the breast, thigh, and wing joint).  
Keep all kitchen areas clean Wash utensils, food prep areas, and, yes, HANDS. Hot water and soap will get rid of illness-causing bacteria. It's especially important to ALWAYS wash your hands and all equipment before and after working with raw meat, poultry, or seafood so you don't spread bacteria that live in these uncooked foods.
Don't ignore the leftovers Separate cooked foods into small containers, and refrigerate or freeze immediately. In smaller portions, they'll be preserved faster and more evenly, and later they'll be easier to reheat as needed.
Food handling errors and inadequate cooking are the most common problems leading to poultry-associated foodborne disease outbreaks in the U.S. Properly handling food and keeping up with cleaning up will help keep those illnesses at bay.
Pass the turkey, not the germs. Happy Thanksgiving to you and yours!
Sources:
http://www.cleaninginstitute.org/clean_living/thanksgiving_tips.aspx
http://www.cdc.gov/features/turkeytime/